RECLAIM YOUR
POWER
WITH THE ENERGY MANAGEMENT TOOLKIT
If you've ever felt lost, uncertain or felt like your energy needs a tune up,
You're in the right place.  The Energy management Toolkit is a course designed to help you Dismantle Resistance, Remove Blocks, and Become Reconnected to your Spiritual Power.  This is a Powerful Toolkit that you can use again and again to quickly raise your vibration and let go of resistance. 
PURCHASE THE TOOLKIT HERE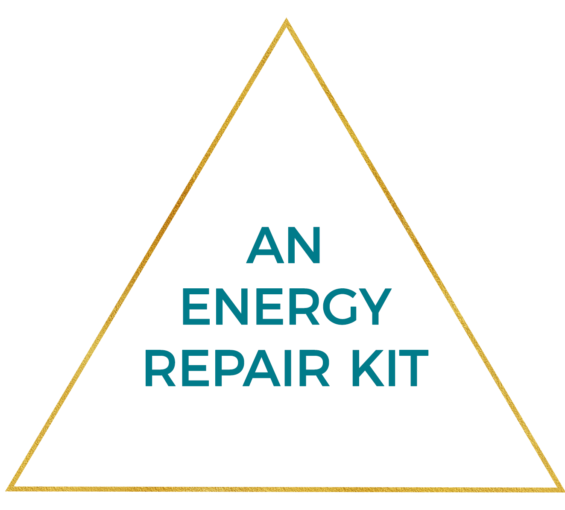 BEGIN THE JOURNEY OF HEALING

Are you Ready to Stop Resistance in its tracks?

       

Are you Ready to Start Learning how to clear up your Energy Leaks?

     

 Are you Ready to start creating Empowered Beliefs?

       

 Are you Ready to start Reconnecting to your Spiritual Power & Connect with Higher Self?

     

Are you Ready to Take the Wheel Back & get into Divine
Alignment with your Desires?
IT'S AN ENERGETIC ROLLERCOASTER
On a Spiritual Journey our emotions can start to feel like a roller coaster of twists and turns. It often feels like our life is moving down rather than up.
Have you ever felt anxious,  overwhelmed or like your energy feels like a bottle rocket ready to explode?
Have you been letting excuses dictate your actions?
OR are you struggling with over-active empathy(AKA the emotional sponge),  feeling lost or disconnected?
I can tell you I've been there too and I'm here today to say it CAN & Will get better.
I come forward with this information because I began putting these pieces together.
We don't just need a healing session for our energy, we need a system
to start learning to Manage Our Energy daily.
WHAT DOES THAT REALLY MEAN?
What if I told you that learning how to navigate your energy is the secret you're really looking for when it comes to "raising your vibration"
This idea is something I discovered on my own healing journey, we all have the ability in each moment to learn how to Shift our Energy. The problem is no one gave us a rule book for how to do just that.
I began transforming my empathetic angst from feeling like an emotional victim in my life into emotional empowerment by utilizing these tools I'm about to give you.
What can I honestly tell you about the Toolkit? 
The majority of people out there are operating their energy as if they're on itunes shuffle and forgetting they can simply turn the channel back to their favorite song or a song they can enjoy much better.
This Idea is about understanding how our Energy, our mindset truly works.

Intentional Creating begins with Owning your Spiritual Power and Choosing to reclaim that power.
Inside the Toolkit, we travel through the Tools that can teach us how to Re-Align our Energy Body from the inside out.
This is a practice that you can apply to your life again and again. While each of these tools builds on top of the other, The toolkit is designed as multiple Alignment Practices to help you with your Energy.
Now Featured as an Audio Course, The Energy Management Toolkit is a  Spiritual toolkit to actively Change your Vibrations and learn how to reclaim your spiritual power.
Learn Rituals, Practices and Energy Tools to radically shift your Vibrations with Powerful extra Soul Work Journal Prompts to Dig deep into what is holding you back.
The Toolkit goes into how we can learn to shift our energy, through 11 different tools that we can consciously apply to our life to empower our selves & manifest our desires.
SO LET ME ASK YOU:
WHERE ARE YOU VIBING AT RIGHT NOW?
See awhile back, I used to have tons of problems with controlling my energy, how to understand it and how to guide it to create a better reality. I often found myself stuck in victim stories and falling into old patterns that revolved around feeling powerless over my hypersensitivity.
What we don't realize is many of us are wandering around like loose cannons ready to explode because we are taking on so many different emotional frequencies and holding onto energy we don't even need – Sometimes this energy might not even be ours to begin with, that is crazy!
This can damage our energy body, leave us feeling powerless and cause self-sabotage.
It can also leave us feeling drained, unmotivated, stop us from pursuing our dreams or even enjoying Life to the fullest!
This is because we're letting our energy rule us, instead of learning to navigate our energy.
The hugest problem in the spiritual community is many of us don't have a system for managing our energy body & learning to shift our vibrations.
If there was a handbook for understanding your mind & energy, managing your energy would be at the top of the list.
THE ENERGY WE HOLD IS POWERFUL BEYOND MEASURE
This is why I created your own Personal Energy Repair Kit
Think of it as a spiritual toolbox that you can carry around with you, use when needed and pull out each tool whenever is necessary. Each of these 11 Tools can be used again and again for your personal transformations so you can truly ditch overwhelm, let go of resistance and start manifesting your true desires.
INSIDE THE TOOLKIT
An Empowered Set of Energy Tools, Exercises & Rituals to help you expand your awareness and let go of your negative fears. 
WRITTEN WITH EXERCISES FOR ACTION
The toolkit is an Audio Course where you can learn to shift your energy through 11 different energy tools that we can consciously apply to our life to empower ourselves & learn to start manifesting our desires.
In summary you will receive: 
15 Audio Trainings with Personal Commentary on the Tools (4 hours & 45 minutes long itunes Audiobook)
Extra Soul Work Journal Prompts
Soul Rituals connecting to some of the Tools 
A Guidebook to accompany the course ($167 Value)
A Playbook ($222 Value) – Companion Workbook filled with 49 pages of exercises, rituals, & written journal prompts
A Quick Fix Guide
BONUS Soul Ritual Supercharging Your Life with Intent ($97 Value) -Guaranteed to boost your manifesting power!
BONUS Power Questions for an energetic tune up Printable ( $47 Value)

BONUS –  Q&A support in our Private Fb group (PRICELESS)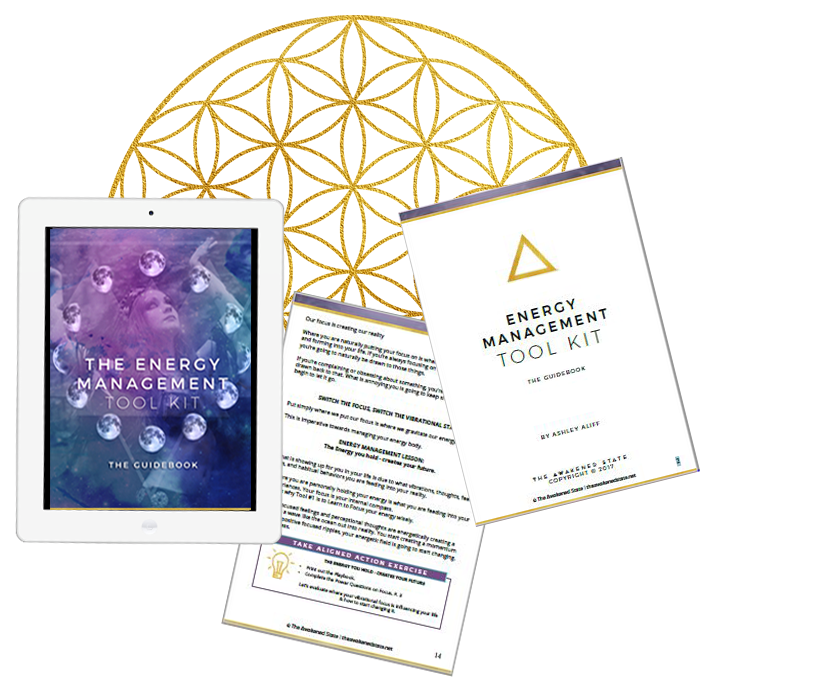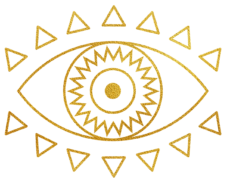 TOOL 1. UNDERSTAND YOUR MIND'S FOCUS POINT
In This tool, We'll start to go over how energy can influence our reality and the way our mindset is important towards empowering our vibrations. This first tool is critical towards understanding your energy body.
Then we'll go into some Power Questions to evaluate our energy and how we may be sabotaging our vibrations.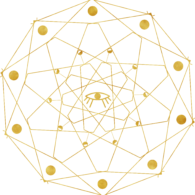 TOOL 2. FIND YOUR MIND DISCIPLINE
In this tool, we will go into the effect of how our mind can choose to create different realities and what it means to create healthy choices. This tool is great for those who suffer from anxiety or fear. It goes into the process of how to start changing your vibration and focusing on the 3 specific methods of Perception.
Following this lesson we go into your first soul ritual combining intention, raising your vibes and the process of mind discipline.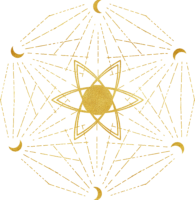 TOOL 3. HOW ENERGY INFLUENCES OUR ENVIRONMENTS
This tool is for all the sensitives in the house. If you suffer from over-active empathy or generally have a hard time with your energy body, you will love this tool. We look into the many different ways that our energy personally can wreck havoc on our environments. This tool will also help you establish healthy emotional boundaries and learn what it means to influence your psychic circle.
After this process, we will go into some personal evaluation with powerful questions to evoke change and transformation towards our energy environments.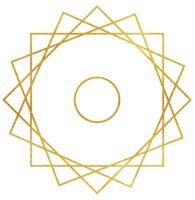 TOOL 4. GETTING SUPER CLEAR
CLARITY IS KING when it comes to managing your energy. In this tool, it's all about learning to get ourselves super clear and learn how to vibrationally declutter. I share some powerful techniques to help you feel personal relief and start removing stagnant energy.
After this lesson, we go into a Soul Exercise to defeat overwhelm and also a special bonus Clearing Ritual to start taking control of our stagnant energy for good.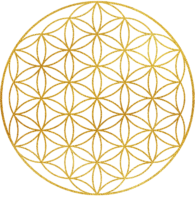 TOOL 5. RECONNECT TO YOUR EXPANSIVE UNIVERSE
After we got clear, now it's time to get reconnected and learn about our expansive universe. This tool is great for anyone who feels lost, uncertain or need a nice dose of spirit. I teach you about how we create limitations and blocks for ourselves and the easy way to start removing them.
After this lesson, we go into the RECONNECT EXPERIENCE, a powerful thought provoking exercise that allows us to surrender to the spirit world.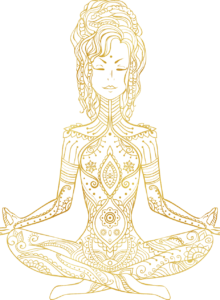 TOOL 6. BE MORE PRESENT WITH A PRACTICE
A lot of the time we get in our own way, due to attaching ourselves to the past and the future. In this tool, I teach you a simple easy to implement practice to establish your own spiritual connection daily. This tool is essential for any sensitive folk whether you have empath problems or not.
After this lesson, We start to brainstorm ways to implement a spiritual practice of your own understanding. This is a fun technique that we can build on overtime.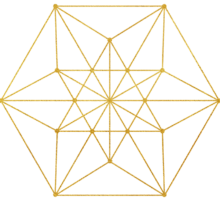 TOOL 7. START A CONVERSATION WITH THE UNIVERSE
Our energy is made to open up to spirit in this Tool we go deeper into the ways we can start talking to the universe for guidance, clarity and problem solving.
This is a great exercise if you feel self-doubt or worry because it helps you get out of the way and into the state of the divine.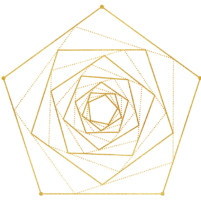 TOOL 8. CLEARING THE PATH
In this tool we start dismantling our resistance head on with a powerful Releasing Ritual.
I introduce you to the Three Step Process of Releasing and how each step is essential towards defeating our negativity and the ways we hold ourselves back from moving forward.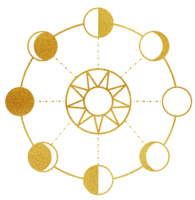 TOOL 9. THE EMPOWERING PROCESS
In this Tool, we move in sequence from the Releasing Process into the Empowering Process. I teach you a fun technique to start creating new Empowered Beliefs. This technique has honestly changed my life as it literally builds upon the Subconscious and creates massive momentum for Change.
In this Ritual, We're ready to release it all and surrender to change.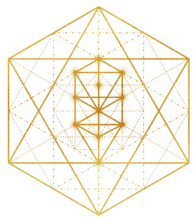 TOOL 10. THE MIRACLE OF BLESSINGS
This tool touches on how to start creating more higher vibrations into your reality. This is an exercise you can use just about anywhere to help your energy body and even create manifestations.
The Power of this final ritual will literally get you reconnected to source and the powerful healing energy to transmute low vibrations into a higher Vibrational response.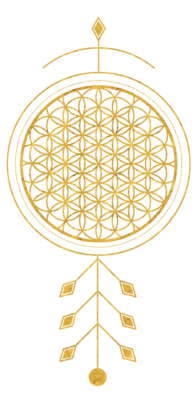 TOOL 11. EMBODY HIGHER SELF
Finally the last tool, we go deep into the vision by learning to Embody the next level version of you. Tapping into Higher Self, embodying our highest-energy where there is no more Room for Victim/Fear mind.
In tool 11, we go deep and learn how to start embodying SOUL ALIGNMENT on the energetic level. We utilize some mindset techniques to uncover what is stopping us and how to merge all of the tools together into our Identity.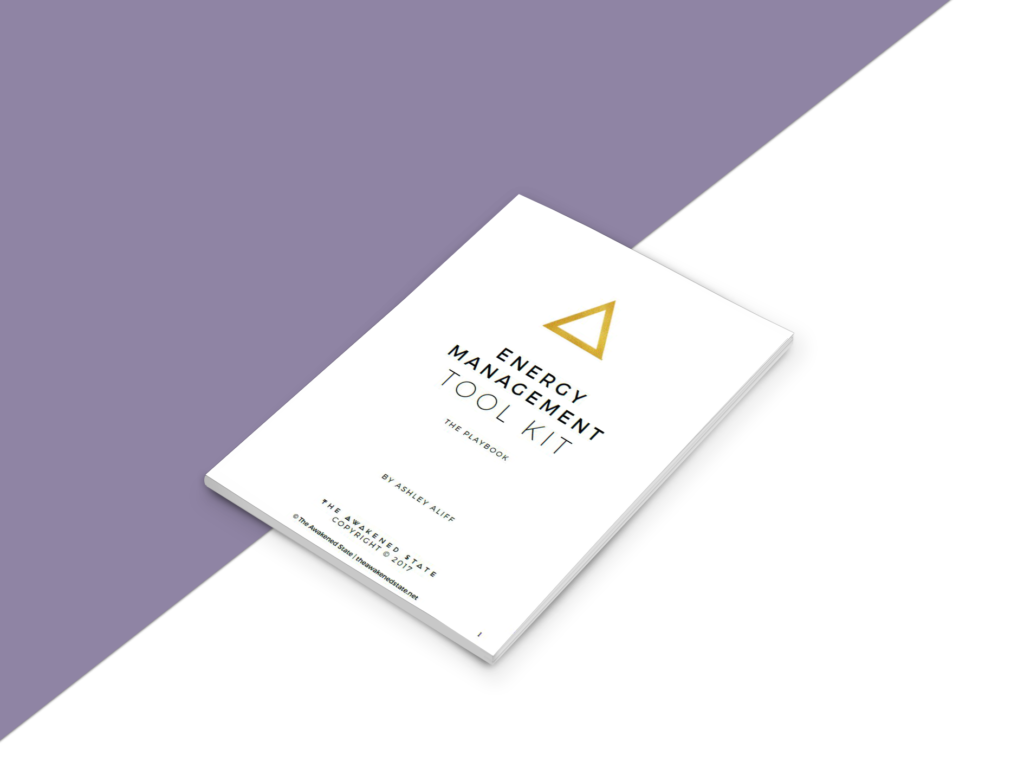 COMPANION DIGITAL PLAYBOOK
This Playbook goes hand in hand with the Toolkit so you can easily start taking action
and implement your teachings.
Each Section of the Playbook has something different to take Aligned Action through Written prompts, Power Questions, Exercises and Rituals.
Some of the highlights include:
Frequency Tuning

Soul Exercises

Clearing Rituals

Empowered Questions
CREATE YOUR OWN AUDIOBOOK
As an Audio Course, you can now You can carry it in your back pocket so you always have it. 
I re-created the Toolkit so it is now easily digestible and broken up step by step so it becomes easier than ever to implement into your life.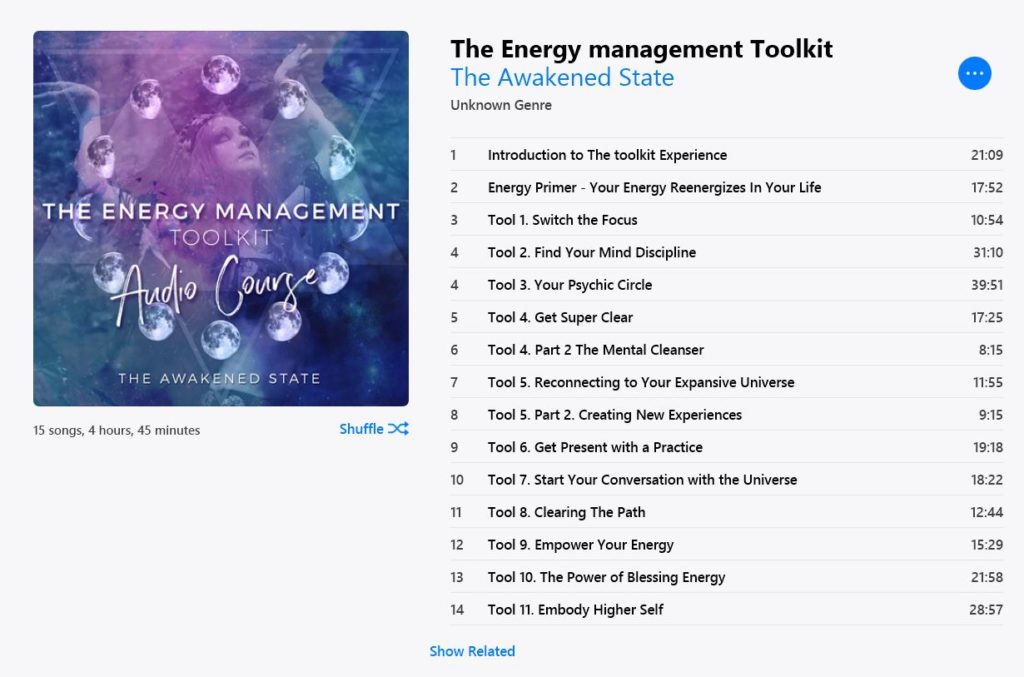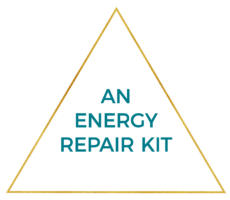 Let Yourself Be Lead By Your Joy, Are You Ready to Create A Shift?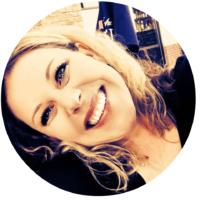 "I wanted to take some time to thank you for putting together such a mind blowing BOOK of information, to include a workbook.



Your EMT is laid out perfectly and guided me through every possible area I could think to uncover and discover. Not to mention, your insight is something I haven't found anywhere else on the internet or in a book. It's personal and I felt like you were with me the whole way through.
It's been an eye opening process, and it is exactly what I needed. There are no coincidences, I found you, and your material at just the right time. Thank you so much for being brave and putting yourself into such an amazing product. I will be re-reading this over and over as I need. I printed everything out so I can go back and reflect.
Again, I am in awe. Thank you… a million times over."
CARRIE MILLER
Life Coach & Motivational Speaker

" I AM IMPRESSED!  It is so well organized and explained in an easy to understand manner!
And the interactive take action questions etc.. are so key! This is much of what I've studied for many years. Not that I've mastered it all yet. But you have it all covered!!!!!!! I am thrilled. This is comprehensive and a wonderful guidebook /manual to SELF CARE & LIVING LIFE/LIGHT.
After I go through everything I think I will want bullet points printed out to keep up just for daily reminders to fine tune and be consciously aware each day."
AMY ST MIKAEL
Holistic Healer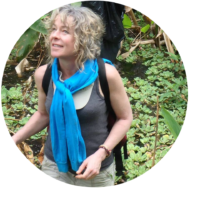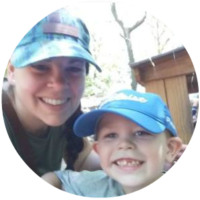 "I have to say this beautiful masterpiece came into my life at the perfect moment.
After having a child everything I knew flipped upside-down, and I never really felt like I got my balance back. Recently I've been searching for help to restore my balance in life and couldn't find a resource that was helpful. Until this. This playbook and workbook has helped me realign my life.
I'm focused, awake and open to what my future holds. My energy is now where it belongs. I'm no longer carrying other people's energy as well. I feel so relieved and joyful about my journey. I'm so great full I have this toolkit to look back on whenever needed."
ANGELA STOCKTON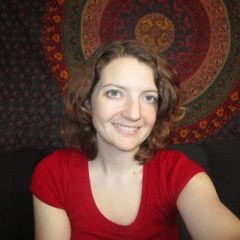 Hi! My name is Ashley Aliff, I'm the creator behind Theawakenedstate.net.
The Awakened State is a Place of Empowerment, Divine Support & Guidance helping you on your spiritual journey. I am a Spiritual mindset coach, specializing in energy clearing, Emotional empowerment, subconscious reprogramming, manifestation and naturally kundalini awakening.
I help others see their unlimited potential, live beyond fear and start Awakening their Inner Creator. What I truly know is that we all carry the ability to rise above the bullshit in our lives and learn to consciously co-create an amazing life. When I first created the Toolkit, my objective was simple: Teach you to remember your Spiritual Power and how we all carry the ability to create what we want in our lives.
If you've ever been someone who feels powerless over your energy, you feel overwhelmed due to your hypersensitivity, I completely understand! I was there too, but I also know we carry immense power to transform our lives from the inside out. It starts with you and your energy.
I am here to show you what is possible.
It's time to Awaken your Light, Align with your authentic truth and Step into your Spiritual power as a co-creator of your reality!
FREQUENTLY ASKED QUESTIONS
What if I haven't awakened or I'm just getting started, does this toolkit still apply to me?


Absolutely! Almost everyone can benefit from getting in touch with their energy body, whether they are awakened or not. This toolkit is meant to serve anyone who is suffering from negativity or having trouble letting go of resistance. This toolkit is like a self-care kit for someone who needs help with understanding how energy is influencing their life. It can definitely apply to just about anyone who's willing to have an open mind.
I have read and seen a lot, how is this any different from what I've already tried in healing methods?


This toolkit touches on a lot of new techniques that aren't as renown. I teach you to go deep into your spiritual side and access the subconscious to heal. Each Tool is very unique and covers a lot of ground towards how our energy body works. If you're new to spirituality, this can extremely benefit your understanding of the spirit world.
How long will it take to download?


Immediately. As an Audio Course, you receive the entire Toolkit after purchase. After you place your payment, you will receive a welcome email with your login information for The Awakened State Membership site so you set up your own personal password.   If there is any problem with this, please email support at cosmiclove@theawakenedstate.net
Is there a guarantee?


Absolutely! Though I hope it won't come to that. We have a 30 day no-questions-asked money back guarantee. I believe in your peace of mind.
Can you Promise Results?
If you show up to do the work, Follow the tools, and complete the playbook. You will definitely see a shift and a transformation begin to take place. 
HAVE MORE QUESTIONS? REACH OUT HERE